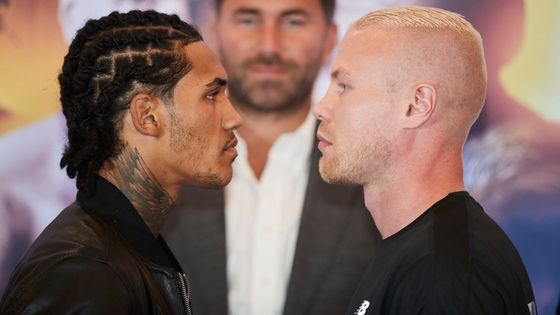 Main Fight
Ted Cheeseman v Kieron Conway, British Light-Middleweight Title, Sky Sports
Ted Cheeseman (15-1) returns to the ring on Friday night to defend his British title. Back in February, he was totally outclassed by Sergio Garcia in a bid for the European Title at the O2 Arena. How Massimilliano Bianco scored it as close as 115-114 is beyond me. Luckily Jean Robert Laine and Gregorz Molenda both had it correctly at 119-109 for Garcia. Cheeseman was dominated, and looked lost in there with the Spaniard. Recently, British fighters have struggled to make the jump from domestic to European level, with Ritson, Gill and Cheeseman all being humbled. Cheeseman is still a solid domestic fighter, and while not the biggest puncher, is always entertaining. Kieron Conway (15-1) looks like a get well fight for the Big Cheese, and "should" pose little problems. Having never fought a scheduled 10 rounder, never mind a 12 rounder, 23 year old Conway is taking a massive step up here. Maybes he's ready, or maybe that Garcia loss has taken something from Cheeseman. Odds are starting 1/6 Cheeseman (Cheeseman was 1/14 at the start of the week), and 17/4 for Conway. A combined 12 KO's from 27 fights shows there's not much power between the two here. We're looking 4/6 Cheeseman and 22/1 Conway for KO wins. Paul Upton had a very similar record to Conway before he fought Cheeseman, and was overwhelmed and stopped in 4, which may not bode well for the young man here. I think Conway could certainly see the final bell, but if Cheeseman is on his game and constantly in Conways face throwing punches, he could very well stop him in the middle to late rounds. Points wins are 2/1 Cheeseman and 6/1 Conway. The over/under is 9.5 rounds at 5/6 either way, id be more inclined to take the over. Cheeseman needs a good performance to put the Garcia loss behind him, build himself back, and hopefully get himself in line for another crack at the European title. I fancy him to wear down Conway by the middle to late rounds and force a stoppage win.
BNC Tip – Cheeseman to win by KO (4/6)
Other Notable Fight
Conor Benn v Jussi Koivula : WBA Continental Welterweight title, Sky Sports – Conor Benn (14-0) is there for the taking for someone. He looked like he had some potential up until that 6 round war with Cedrick Peynaud when everything went out the window. Peynaud was 5-4-3 at the time, and put Benn down twice in the 1st round. To be fair to Benn, he rallied, dropping Peynaud in the 5th and 6th to get the win on points. He beat him again, much cleaner and wider over 10 rounds in a rematch around 7 months later. His last name does him no favour's with fans, similar to Eubank Jr. People just want them to fail. 35 year old Jussi Koivula (24-6-1) is the most experienced man Benn will have faced, by a mile, on Friday. He's fought more than a handful of times, and fought some top level European fighters – Leonard Bundu, Mohamed Mimoune, Samuel Vargas and Jordy Weiss – and even though he lost to all of them (they would all likely beat Conor Benn), that experience could prove to be the difference here. This is quite a step up for Benn (fair play for him taking this fight), and we'll get to see what he's made off and what his boxing ceiling is. I'm not one of these people who want to see him fall flat on his face, but I don't have very high hopes for the lad. Intriguing fight this. I was shocked at the odds. Benn starts the fav at 3/10 and Koivula 12/5. I think they should be closer. I think this is a close fight. KO's I don't think are an option here, but Benn is 7/4 and Koivula 11/2. Points win are more realistic. Benn is 6/5 and Koivula 6/1. I was maybe fancying Koivula at the start of the week, but then seen these odds and have maybe changed my mind. Maybe Koivula just isn't very good and Matchroom see his as chance to get an experienced name on Benns record before cashing out on him down the line. Benn to win points….just.
BNC Tip – Conor Benn to win on points (6/5)
Quick Hitters
Craig Richards v Andre Sterling : 10 Rounds Light-Heavyweight, Sky Sports – Richards (14-1) starts 2/11 here against Sterling (10-0), who himself is 7/2. Sterling has very limited power, so likely isn't going to be able to keep Richards off him. Richards destroyed Jake Ball in February, and I expect the same thing here. Richards KO win at a very good 5/6
Reece Bellotti v Josue Bendana, 6 Rounds, Sky Sports – This is a joke fight. Bellotti (13-2) is fighting a 23 year old, Bendana with a record of 10-11-4, who has lost his last 6. Bellotti is "only" 1/50, and Bendana 14/1. He only has 6 rounds, but if Bellotti can't stop Bendana early, i'm not sure where he goes? Bellotti by stoppage, no odds are listed as of yet for this.
Andrew Cancio v Alberto Macado, WBA World Super-Flyweight Title –  Cancio (20-4-2) defends his title in a re-match agains the man he won it from, Alberto Machado (21-1). This is as close a fight at the bookies as you can get. Cancio starts 4/6 and Macado 6/5. I'll be amazed if this goes 12 rounds, both were down in February in their first fight before Cancio stopped him in the 4th. Cancio KO is 27/20 and Macado 11/4. I'm going for a Cancio repeat KO win at the 27/20
Paulie Malignaggi v Artem Lobov – Not sure if this counts as a boxing match? Paulie steps in the Bareknuckle scene this weekend against Artem Lobov. There is serious bad blood here after Malignaggi's famous sparring session with McGregor. The buildup has been in poor taste, with Paulie spitting on Lobov. Malignaggi starts 2/5 and Lobov 7/4. A good boxer will always beat any MMA fighter in a boxing match, and this is a boxing match just with no gloves. If Paulies hands hold up he will box the head of Lobov for 5 rounds. Lobov is a man who can take serious punishment and just keep fighting. His best hope is Paulie's brittle hands can't last and then swarm him. Malignaggi to win at 2/5
(No odds are currently listed for the next two)
Guillermo Rigondeaux v Julio Ceja, 12 Rounds – Remember this fella?!? Rigondeax (18-1) is back on a somewhat relevant US card on Sunday, facing Julio Ceja (32-3). Ceja (*/*) is coming in on the back of a stoppage loss to Franklin Manzanilla last year, but is a big puncher and Rigondeaux wont dwarf him in size here. Rigo does not care one bit about impressing fans or TV networks, and just wants to win, and if 36 minutes of dull, boring boxing gets him that W, that's exactly what he will do. Im going to believe Rigo has woken up and gets himself a good, exciting KO win. Rigondeaux by KO
Jermell Charlo v Jorge Cota, 12 Rounds – Injury put a rematch against Tony Harrison for the WBC World Title on hold for Charlo (31-1), but he kept the date and goes in against Jorge Cota (28-3). Cota is in for a beating here for as long as he can last. Charlo was embarrassed by losing his title to Harrison, and anything other than a total destruction of Cota would be suprising. Charlo stoppage
BNC's Betting Corner – 21/6/19